There are some good journalists at Huffington Post — but a lot of content on Huffington Post isn't exactly well-researched. For example, this post titled, "What's wrong with this picture?"
The picture shows a wife of a US Army veteran welcoming her husband back from Iraq. She is pregnant.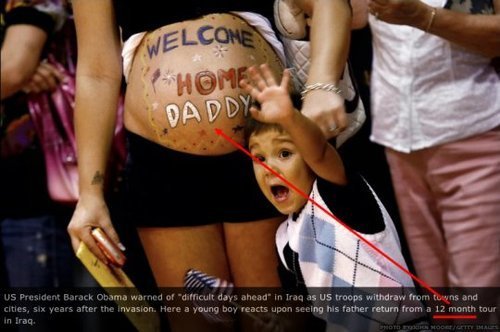 He was on a 12 month tour, so obviously that means she conceived the baby with someone else because he was gone, right?
Huffington Post makes the easy jokes on this front.
As our Jason Linkins says, "Looks like there was a counterinsurgency at home."
Well…
The story behind the "Welcome Home Daddy Belly Painting Picture is that I had the idea to paint my pregnant bellywith a special message for my husbands return from Iraq. 

Our baby was conceived in March while he was at home on his leave. 
The woman, Kendra Kaplan, explained further in the Huffington Post story's comments.
First off thank you to all who are nice about the picture. SECOND! I was 5 months pregnant. My husbad deployed in september of 2008. He returned in March which is when we conceived. He was home for 20 days. Tomas was born Dec. 2nd 2009. It is my husbands and this site should be ashamed that they change around the captions. This is awful. Go to getty images and look up kendra kaplan. It says we conceived on mid-tour. And that little boy is my 3 1/2 year old son. NOT BROTHER. 
Huffington Post got it from 9Gag by way of The Daily What. I can't find the specific post on The Daily What, so it may have been taken down.
Mashable is, well, it is something. I occasionally click on the links from Mashable's Twitter account but generally the things that Mashable writes about don't interest me all that much. Politics, however, is in my wheelhouse.
It does not, however, appear to be in the wheelhouse of Mashable.
Mashable posted an article asking, "Can Twitter Predict the Iowa Caucus?" yesterday, before the caucuses that ended with former Massachusetts Governor Mitt Romney narrowly (and I mean narrowly) edging former Pennsylvania Senator Rick Santorum by 8 total votes. 
The post wondered if "positive sentiment on Twitter," as shown by analysis by Globalpoint Research, would be a better predictor of the caucuses than an NBC/Marist poll on the Iowa caucuses. 
The post included this chart:
More on this chart later.
The next day, Mashable asked, "Did Twitter Predict the Iowa Caucus Better than Pundits?"
Mashable's Alex Fitzpatrick wrote, "Information from Twitter matched up with pre-Iowa polling data from NBC/Marist, with one glaring difference: On Twitter, Rick Santorum was on fire."
The "positive sentiment" did match up quite well on the chart between Romney and Representative Ron Paul, but not so much the others. I don't include Jon Huntsman because his numbers were so small and he did not really compete in Iowa; he ignored the state to concentrate on New Hampshire.
But this analysis could be wrong, because I'm not sure if we can trust the chart. Fitzpatrick doesn't disclose the exact numbers on the Twitter sentiment, so we can't check those. But we do know the numbers on the NBC/Marist poll. And the numbers in the poll don't seem to match up too well with the numbers on chart.
Paul got 21 percent in the NBC/Marist poll, but his bar is below 20 percent. The bars representing the NBC/Marist poll in the Mashable chart showed Perry and Gingrich (14 percent and 13 percent, respectively) above Santorum's even though Santorum received 15 percent in the NBC/Marist poll. Bachmann's bar also appear to be off.
And there are more reasons to be skeptical of this — mistaking explanations for Rick Santorum receiving positive attention at that exact time.
Previous polls had showed Santorum's numbers rising while other rivals, notably former Speaker of the House Newt Gingrich, had their support plummet.
Santorum's support in Iowa was in the single digits through the beginning of December, but a Public Policy Polling poll on December 18 and a Rasmussen poll on December 19 showed his numbers rising to 10 percnet.
In fact, a major poll released on December 28* showed Santorum at 16 percent. The Twitter sentiment that Globalpoint looked at was from December 27-30 — or right when Santorum was getting major positive press after a major poll showed his numbers rising.
* The poll was conducted from December 21-27, excluding Christmas. But for showing how the poll could have effected sentiment on Twitter, the date of release is relevant.
Another problem is that Globalpoint is comparing national Twitter attitudes (I assume) to polls and caucus results in an individual state. That is just a fundamental misunderstanding of how things work.
The whole post is comparing apples to oranges (or worse, like comparing a shot glass to a pillow). It merely looks like a tech reporter who does not understand politics ran with data he didn't understand from Globalpoint in order to get hits on a relevant post.